Genesis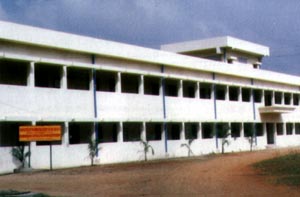 The Adhiparasakthi College of Physiotherapy was started in the year 1994 and offers a 4 year degree in Bachelor of Physiotherapy. This college is affiliated with the Tamilnadu Dr. M.G.R. Medical University, Chennai. The annual intake is 50 students and the total strength of the college at present is 170.
Infrastructure
The management has created many facilities. The library has numerous books on various subjects, journals and magazines. The college is equipped with the latest equipment such as treadmills. The rudiments of personal behaviour, skill, good manners, patience and care are all instilled at this campus. The novelty and individuality that each student gains here can only be experienced and not explained.
Scope
The field of physiotherapy has now cast its magnificent rays to make a dawn in the lives of the people with physical ailments. Be it a child or an adult, everyone realises the importance of physiotherapy irrespective of the age; be it a mild discomfort of a little finger or a life threatening condition of the brain. As of now the awareness is broadened and deepened as well, making the scope better. Everyone relies on physical rehabilitation as and when they get aged. We the Physiotherapists pledge to ward off physical ailments from our planet - 'The Earth'.
Training
As a mark of excellence our management has provided us with a well equipped department in the college premises. The department is the source of our success in the field of Physiotherapy in Melmaruvathur and promotes self-satisfaction through free service. Through their clinical outpostings in more than ten hospitals in the surroundings, the students gain a lot of exposure in treating the patients. The dynamic faculty of the college recognize the inborn talents in curricular and extra-curricular activities of the students and help them to step-up high in the ladder of success. Apart from the training given to the students, the faculty members themselves are given opportunities to attend workshops, conferences, etc. In addition to this, the staff members are given sponsorship for the M.P.T. degree.
Achievements
The college has been accorded membership in the Indian Association of Physiotherapists in recognition of the college's excellent work in the field of Physiotherapy. As of this date, the college has produced 125 students, most of them are placed well.
Future Plan
As success and achievements are not destinations to be carried away with, but are simply steps on a journey, we keep on improving forever. To be kindled with the feel of achievements we have plans to install a medical laser. With the blessings of "AMMA" Master in Physiotherapy is likely to be introduced in due course.