Start Pages
Om Sakthi Home
Trust Home
Charitable
Mass Feeding
Other Charitable
Medical
Free Hospital
Eye Camp
Educational
Secondary
Polytechnic
Engineering
Physiotherapy
Pharmacy
Nursing
Science
Agriculture
Cultural
Conferences
Tours
Yagnas
Youth Wing
Other
Contact Trust
Genesis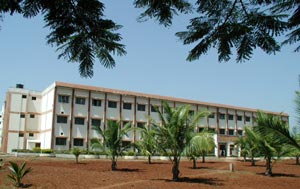 The Adhiparasakthi College of Pharmacy was founded in October 1993 and started functioning with 30 students. It is affiliated with the Tamilnadu Dr. M.G.R. Medical University, Chennai. Also, the College of Pharmacy is approved by the All India Council for Technical Education, New Delhi and recognized by the Pharmacy Council of India, New Delhi. The aim of AMMA is to enrich the Pharmacy/Medicinal knowledge in the rural youth and enable them to gain in health and employment.
Facilities
The institution has basic facilities like building, machineries, instrument, library and research chemicals to carry out regular and research work in the field of pharmaceutical technology. Now by keen interest and direction of our Vice President Tmt. V. Lakshmi Bangaru Adigalar, the institute is fully equipped with qualified and experienced professors. Also the faculty have been graduated from different universities like Madurai Kamaraj, Jadavpur, Calcutta, Birla Institute of Technology, Rajasthan and Bihar, Bharathidasan, Annamalai, Bangalore, The T.N. Dr. M.G.R. Medical and Punjab University, Chandigarh. Hence it is proven to be one of the fastest developing Pharmacy college in Tamilnadu.
Achievements
At present there are 160 students on the roll. Every student in the first four completed batches from this institute are employed in various organizations such as pharmaceutical industries, pharmacy institutions, hospital pharmacies and employed abroad in countries such as the U.S.A. The students from the Institute consecutively qualified in GATE Exams, that is the All India Exam conducted by Human Resource Development Ministry through Indian Institute of Technology.
One of the industries in Gujarat (Vital Care Limited) appreciated our research work and they are getting written permission from us to establish their product in public health in the medical world. Also, in the newer field of pharmacy education, in the name of the Adhiparasakthi College of Pharmacy the institution has published a number of research articles in reputed national and international journals.