Start Pages
Om Sakthi Home
Trust Home
Charitable
Mass Feeding
Other Charitable
Medical
Free Hospital
Eye Camp
Educational
Secondary
Polytechnic
Engineering
Physiotherapy
Pharmacy
Nursing
Science
Agriculture
Cultural
Conferences
Tours
Yagnas
Youth Wing
Other
Contact Trust
Genesis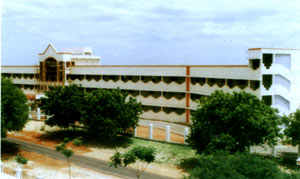 The Adhiparasakthi Agriculture College was started in the academic year 1999-2000 and offers a four year B.Sc. (Ag.) professional degree. This college is affiliated with Tamilnadu Agricultural University, Coimbatore to impart a need based, region specific, quality education in agriculture. This is the first self-financing agriculture college in South India. Students admitted to this program will follow the common syllabi and examination system of the Tamilnadu Agricultural University.
Objectives
To increase the food production efficiency, crop diversity and food security of North Eastern Tamil Nadu
To introduce and improve choice varieties in agricultural and horticultural crops
To recommend high yielding rain fed and irrigated crops suitable for this area
To introduce profitable and sustainable agricultural practices along with allied enterprises
To impart training on the latest agricultural technologies and practices to the ryots, rural youth and women.
To train graduates for self-employment so as to encourage entrepreneural skills in agricultural graduates
To serve the requirements of farming communities in the districts of Vellore, Tiruvannamalai, Kancheepuram, Dharmapuri and Tiruvallur
To develop location specific technologies and demonstrate these technologies for extensive adoption
Facilities
The college is housed in a 800-acre area with exclusive buildings, farms, hostel and teaching faculty. The college is situated 18 Kms from Arcot and about 40 Kms from Vellore/Kanchipuram. It is well-connected by public transport buses.
Central Farm
The central farm consists of 250 acres dedicated exclusively to the research activities of the agricultural students and about 500 acres for further enterprises like poultry, dairy, sericulture, mushroom cultivation, etc. Crops like mango, coconut, guava, lemon, banana, jack, etc. along with brinjal, bhendi, pumpkin, tomato and chillies are cultivated. In the larger interest of the students and the farmers, a well planned crop cafeteria is maintained. It has cereals, millets, pulses, oil seed, 8 commercial crops and horticultural crops. Separate wet land, garden land, and dry land farms are also maintained.
The Agriculture college is hosted in a well-planned modern multi-storeyed building as can be seen in the Photo.
Other Facilities
The central library is equiped with more than 10,000 technical books and a large number of Indian and foreign technical journals and periodicals. It also has a good collection of light reading materials. The B.Sc. (Ag) degree program is a complete residential degree. Separate well-planned and well-furnished hostels are available for both men and women. The college has a well-maintained exercise ground and facilities for all sports and games including basketball, volleyball, tennis, shuttle, badminton, etc. A well-equipped gymnasium is also available. Apart from the public bus facilities for the surrounding villages, the college operates 3 buses for the convenience of the students and staff-members.