Start Pages
Om Sakthi Home
Trust Home
Charitable
Mass Feeding
Other Charitable
Medical
Free Hospital
Eye Camp
Educational
Secondary
Polytechnic
Engineering
Physiotherapy
Pharmacy
Nursing
Science
Agriculture
Cultural
Conferences
Tours
Yagnas
Youth Wing
Other
Contact Trust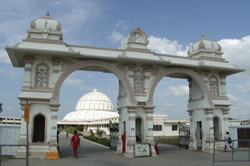 "Amma" is the embodiment of Mercy and Compassion. Since 1986, by Her grace The Adhiparasakthi Charitable Hospital has been serving the needs of tens of thousands of people from hundreds of neighbouring villages. Free eye, dental, skin, ear, nose, throat and general treatment are given at the Medical camps that are frequently held. On the right is a graph of the number of patients treated each year from 1986 to 1999. This number is expected to increase dramatically as the hospital officially opens in 2001.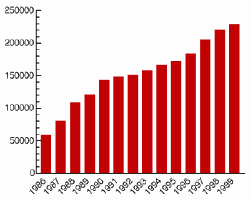 From 1993 to 2001 medical eye camps have been continuously held. Over 20,381 eye patients have benefitted. Eye surgery for 4,026 cataract patients was done and IOL (eye lenses) fixed for 1,128 of them. On August 13, 2000 a Free Cardio-Thoracic Surgery Camp was held in connection with Amma's 60th Birthday Celebration.



Both medical care and the supply of medicines are given completely free to everyone, including the poor and needy. The super-speciality 200-bed hospital along with the Adhiparasakthi Medical &Research Center has diagnostic and research facilities and provides free treatment of high quality to the poor. Amma's desire is to upgrade it to 2000 beds with all the requisite infrastructure in the near future.
Adhiparasakthi Medical and Research Center

| | | |
| --- | --- | --- |
| | This hospital is unique in its structure with a central edifice denoting the Swayambhu and its five wings denoting the Pancha Bhoothams (i.e. Land, Water, Fire, Wind &Cosmos). | |
1st Wing
(For Pictures Click Here)
2nd Wing
(For Pictures Click Here)
1. Out Patients Section
2. Laboratory Section (Lab, X-ray, ECG, etc.)
3. Consulting Rooms
4. Pharmacy
Female Patients Ward
Maternity/Infants
3rd Wing
Pediatric Ward
5th Wing
4th Wing
1. Surgical Theatres
2. Intensive Care Unit
3. Casuality Ward
Male Patients Ward
His Holiness Bangaru Adigalar has commissioned this medical centre to assist in the growth of charitable thoughts and social upliftment. To assist in the expansion of the hospital the Adhiparasakthi College of Pharmacy and Adhiparasakthi College of Nursing in addition to a College of Physiotherapy are already started and are functioning well.