Oracles are messages directly from Her Goddess Adhiparasakthi through His Holiness. Oracles are given at the Siddhar Peedam on Tuesdays, Fridays, Sundays, Full Moon and New Moon days and on all Festival days. The Divine utterances cover one's past, present and future without the devotee expressing his problems. His Holiness' guidance and soothing oracles relieve and comfort the human heart of its pain.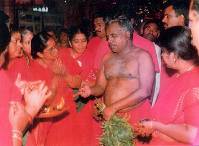 General oracles are also given to the Trust and other governing bodies of the Siddhar Peedam on issues that are domestic, national and international. Oracles are given in different Indian and Foreign languages.

Some of Amma's oracles can be seen here.