Om Sakthi
Home
History
Teachings
The Goddesses
Worship
Festivals
News & Events
Photo Gallery
Worship Centers
FAQs
The Trust
Main Page
Free Hospital
Resources
World Religions
Religion News
Discussion Board
Essays
Religion Links
Help Others
Virtual Cards
Other
Linking Sites
Support/Donations
Contact Us
Goddess Varahi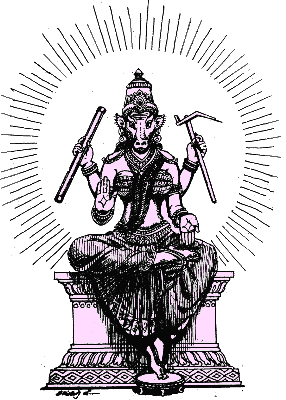 Varahi represents Lord Yama's energy
She is very dark in color and she is wearing black silk and black jewelry. Her face is like that of a boar and she has four arms.
Mortar
Plow
Abayam - I protect you, don't fear.
Varatha Karam - I grant your wishes.
She is seated on a peetam (seat) with her left foot supported by a small stool.